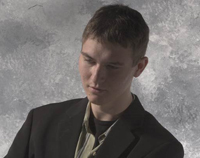 In a home in the Ohio countryside, A young painting phenom creates the most unique greeting cards you can possibly get. Each hand made.
Yes, the style is something you can rely on, but each of his cards is a unique creation that mirrors the special relationship between the giver and the recipient. These are limited edition cards. They are produced only as fast as this young man can paint.
Now, for the price of a typical grocery store mass-produced greeting card, you can get something very special for the ones who are special to you.